The Dangers of Electric Scooters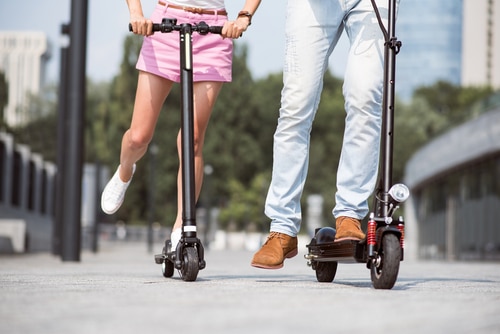 While electric scooters, or "E-scooters," may seem like a fairly recent fad, variations of this convenient and eco-friendly method of transportation have been in development since the 1800s. In fact, the first commercial electric scooter was released over 20 years ago. But, like any other transportation option, these user-operated devices are not lacking in safety concerns.
Electric scooters have become extremely popular with both adult and teenage riders. Bird, an LA based company, estimated that their customers have taken over 10 million rides. Unlike ridesharing companies such as Uber or Lyft, companies that offer e-scooters do not offer any property or bodily injury coverage for their riders. However, these riders often face the same safety risks commonly associated with pedestrians and bicyclists. When accidents occur, it's usually because a car or truck driver is speeding or participating in distracted driving behaviors.
Riders need to seek legal representation if they are seriously injured in an accident while riding an electric scooter such as Bird or Lime. Because electric scooters provide absolutely no physical protection to riders, accidents often result in some cases with catastrophic injuries that require significant medical treatments and even lifelong professional care. Filing a personal injury claim not only holds a negligent party responsible for an accident, it can also award damages that facilitate a victim's recovery by covering their ongoing medical expenses.
Riders face the following concerns when scooting:
Riders aren't always visible to drivers
E-scooters do not provide riders with any physical protection
E-scooters are unstable and can be overturned by road hazards
Inexperienced riders participate in dangerous behaviors
Ideally, electric scooters should only be operated by adults with driver licenses. However, this hasn't stopped teenage riders from enjoying reckless and irresponsible escapades. This poses a significant danger to pedestrians and other riders who often get caught in the crossfire. Bird scans licenses to protect their customers, but it's not unusual for underage teenagers to use fake licenses. In fact, a teenager interviewed by The Verge states, "I think everyone's conning the system so much with Bird that it's not going to make a difference." According to the report, "Underage scooting isn't just an LA thing. Teens from San Francisco to Washington, D.C. have ridden illegally." Some of these underage riders enjoy the adrenaline rush, and push "the scooters past their intended speed limits." Worse, every teenager rider interviewed by The Verge admits that they refuse to wear helmets. In most states, this is illegal and warrants a costly ticket.
To protect pedestrians, many California cities have made it illegal for riders to use sidewalks. This puts all riders at risk because they now have to share the road with fast-moving motor vehicles. Connie Loizos at techcrunch.com reported that e-scooter companies and their investors have been advocating for protected lanes and new infrastructure to protect these riders. The report also claims that all riders, not just minors, should be required to wear helmets when scooting. Unfortunately, Governor Jerry Brown recently signed a bill that makes it legal for all California residents to forgo their helmets when scooting. Many are understandably concerned that this legislation could lead to more catastrophic brain injuries.
Seek Legal Guidance
If you're injured while riding a scooter, contact the Los Angeles personal injury lawyer at the Law Offices of Jennie Levin, P.C. Our firm has recovered millions in damages on behalf of our clients. Our experienced attorney has the skills and resources to represent your case and maximize your claim.
Contact the Law Offices of Jennie Levin, P.C. at (323) 951-1188 to schedule a free case evaluation.
Categories