Common Work-Related Forklift Injuries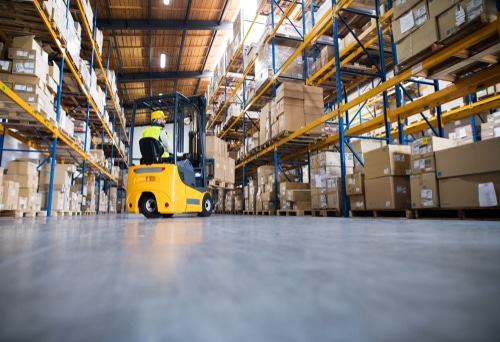 Did you know that 96,785 workers are injured by forklifts each year? Did you know that many of these injures are caused by improper training or reckless behavior? Although the use of forklifts is a crucial aspect of countless business operations, it is important to be aware of the many safety risks that workers face when working with or around these motorized vehicles.
Forklift Safety Statistics
Forklift accidents each year:
Non-Serious Accidents: 61,800
Accidents With Injury: 34,900
Fatal Accidents: 85
Types of fatal accidents:
Crushed Between Vehicle & Surface: 25%
Crushed by Vehicle Tipping Over: 42%
Crushed by 2 Vehicles: 11%
Run Over by Forklift: 10%
Fall from Platform on Forks: 4%
Falling Material: 8%
What Industry Has the Most Forklift Accidents?
Below are the statistics for fatal forklift accidents by industry:
Manufacturing: 42.5%
Construction: 23.8%
Wholesale Trades: 12.5%
Transportation: 11%
Retail: 9%
Mining: 1.2%
Forklift Safety
Forklift related injuries tend to be on the larger scale, but unfortunately, many of these accidents can be avoided by simply training workers better and implementing a clear safety policy. This is why it is crucial to make sure that all workers who use and operate forklifts have been certified. All forklifts should also be equipped with warning signals, such as lights and an alarm/horn to warn nearby people when it is moving.
The following safety inspection checklist should be completed daily before operating a forklift:
Does the horn properly work?
Are there any hydraulic leaks?
Has the battery terminal been covered?
Are the fuel connections tight?
Is the forklift clear of any flammable hazards?
Do the tires have the proper amount of pressure?
Are all of the controls and levers properly functioning?
Does the steering wheel respond to your movements?
Are the brakes smooth and reliable?
Are the seatbelts working?
Speak to a Personal Injury Lawyer
Because forklift accidents tend to happen at work, most of the injuries we've discussed are covered under workers' compensation law. However, some cases can qualify for personal injury damages as well. Although our law firm doesn't specialize in workers' compensation claims, we can still review the details of your case and explain your rights under the law.
At the Law Offices of Jennie Levin, P.C., our legal team is committed to helping our clients obtain fair compensation for their accident injuries. We take on all injury cases and we have the skills and resources that you need to secure a positive case result. Consult with us today to get advice on how to handle your claim.
Call (323) 951-1188 to schedule your free case evaluation with a personal injury lawyer in Los Angeles.
Categories