Who is at Fault and What to Do in a Shuttle Accident?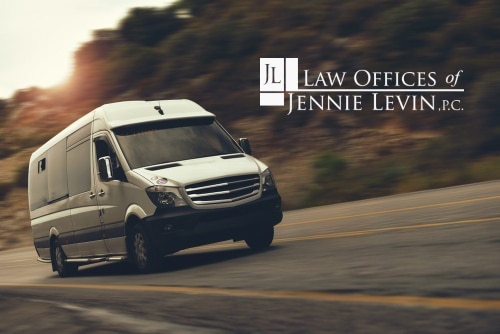 When you are a passenger in an airport or other type of shuttle, your shuttle driver may get involved in an accident. Many shuttles do not have seat belts or air bags. Therefore, passengers in shuttle accidents may be exposed to serious injuries. If you are involved in an accident as a passenger in a shuttle bus, who is at fault and what can you do?
Common Carrier
Shuttles are classified as common carriers, which means they owe a higher duty of care than a regular driver. When a passenger boards a shuttle, the shuttle company and driver have a special duty of care to the passenger. Common carriers are defined as businesses that transport passengers or property for a fee. According to California Civil Code Section 2100, common carriers "must use the utmost care and diligence for their safe carriage, must provide everything necessary for that purpose, and must exercise to that end a reasonable degree of skill."
Shuttle drivers and shuttle companies must provide safe vehicles, treat passengers with civility, warn passengers of any potential dangers in their vehicles, provide proper accommodations for the elderly or disabled, and drive safely. They must also protect passengers from harm by other passengers. As common carriers, shuttle companies also have a duty to screen and train drivers and ensure their shifts are not excessively long. Negligence from a shuttle driver can let to catastrophic injuries.
Per Civil Code section 2100, "Common carriers bind themselves to carry safely those whom they take into their vehicles, and owe both a duty of utmost care and the vigilance of a very cautious person towards their passengers. Such carriers are responsible for any, even the slightest, negligence and are required to do all that human care, vigilance, and foresight reasonably can do under all circumstances."
As a common carrier, a shuttle company is required to provide the "utmost duty of care", a higher standard than ordinary standard of negligence.
If a shuttle is involved in an accident due to negligence or failure of a shuttle company and that accident results in passenger injuries, the shuttle company could be held liable.
Screening of Employees
Shuttle companies, as common carriers, are required to properly screen their drivers. The California Public Utilities Commission (CPUC) classifies shuttle companies as Charter-party carriers (TPC). All TPCs must be enrolled in a controlled substance and alcohol testing program for drivers.
TPCs are required to do a national and local background check and may not hire drivers who have been convicted within the past 7 years of:
Misdemeanor assault and battery
Domestic violence offense
Driving under the influence of alcohol or drugs
Certain felony violations
TPCs are required to follow certain licensing requirements, which include specific requirements for alcohol and drug tests for drivers.
Shuttle Drivers and DUI
As of July 2018, California Assembly Bill AB 2687 lowered the blood alcohol level for drivers who were transporting passengers for hire, as well as for commercial drivers. While the previous blood alcohol level was 0.08, the current BAC level for drivers for hire is 0.04. If a shuttle driver or other commercial driver is convicted of a DUI, his or her license would be suspended for a year. A second DUI conviction would result in loss of a commercial driver license for life.
Negligent Hiring
When you decide to contract the services of a shuttle, you assume you are safe. But what happens if you suffer damages from the acts of a shuttle driver who has a felony record? If the employer was negligent in hiring or retaining an unfit or incompetent employee, you may be able to sue the company for damages.
According to CACI No. 425. Negligent Hiring, Supervision, or Retention of Employee (Judicial Council of California Civil Jury Instructions (2017 edition), "Liability for negligent hiring…is based upon the reasoning that if an enterprise hires individuals with characteristics which might pose a danger to customers or other employees, the enterprise should bear the loss caused by the wrongdoing of its incompetent or unfit employees."
Therefore, if a shuttle company hired a driver when they should have known that driver could create a particular risk of harm, the shuttle company could be found negligent for harms caused by that driver.
Possible Injuries
Shuttle accidents can result in serious and long-lasting injuries. If you are involved in a shuttle accident, you may end up with medical bills, loss of income, disability, and other expenses, In order to receive compensation for injuries, you must be able to prove that the shuttle driver or the shuttle company had violated their duty of care. Therefore, you should hire an experienced personal injury attorney to represent you.
If you've been injured in a shuttle accident, don't delay and contact our office right away at 323-951-1188. It is important that you understand your rights and know your options especially if you've suffered any damages.
Categories