What If I Get Into an Accident While Riding in a Limo?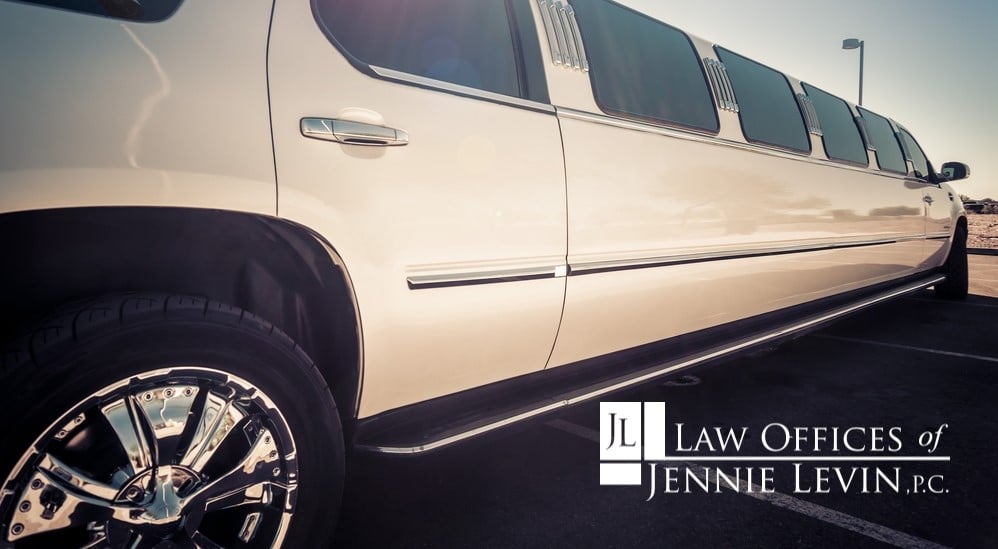 You've hired a limo service to transport you to the airport, for a wedding, prom or another special event. The limo is involved in an accident, in which you are unfortunately injured. What recourse do you have under the law? As with any legal issue, each case depends on individual circumstances. You should contact our capable personal injury attorney at 323-951-1188 about your potential case. However, we'll take a look at the general issue of liability and limo services.
Risk Associated with Limos
An October 2018 limousine accident near Albany, New York left 20 people dead, the deadliest transportation crash in the United States in nearly a decade. The National Transportation Safety Board reported that once the 2001 Ford Excursion had been modified to accommodate 10 passengers, its "passenger-carrying operations" were required to be regulated by the state Department of Transportation.
Limousines face similar accident risks encountered by other passenger vehicles. However, the weight and size of limos increase the risk of substantial damage, including injuries to passengers, as well as any other motorists or pedestrians injured in a crash.
Driver Liability and Duty of Care
Limousines are classified as charter party carriers. Charter party carriers charter vehicles on a "prearranged basis, for the exclusive use of an individual or group." TCPs have certain licensing requirements for such vehicles in California. Charter party carriers must carry public liability and property damage insurance.
In the state of California, are also limousine is classified as a common carrier. Under CACI No. 902 , common carriers must carry passengers or property with the "highest care and vigilance of a very cautious person" to do what the driver can "reasonably do under the circumstances to avoid harm to passengers." Carriers such as limo drivers are responsible for "even the slightest negligence and are required to do all that human care, vigilance, and foresight reasonably can do under all the circumstances."
Unfortunately, limo drivers do not always drive with the utmost standard of care. Examples of negligence include violating traffic laws, speeding, falling asleep at the wheel, and general reckless driving, including driving under the influence of alcohol or drugs.
If a limo driver's negligence is found to be the cause of an accident, the insurer and the company employing the driver would typically be financially responsible. The driver would typically be covered by the company's insurance provider, which would typically include higher policy limits than an individual policy.
Limousine Companies
In the event the limousine company uses a defective vehicle, hires unqualified drivers or mechanics, or even fails to train or supervise employees, the limousine company may be held liable for an accident that resulted from this negligence. In addition, if the company modified the vehicle, as with the Albany accident, there are certain requirements that must be met under California law. For example, vehicles that carry 10 passengers or more must be equipped with two pop-out rear windows and must be inspected at least once every 13 months. If any of these parameters are not met, the limousine company could possibly be held liable.
Limousine Maintenance Company
If an independent company is hired to maintain the limousine, the maintenance company could be held liable if the company was negligent in maintaining the vehicle.
Manufacturers and Retailers
In the event that the accident was due to a defective limousine, the manufacturer or retailer might be held responsible. Since there are many different circumstances to determine liability, it is important to contact an experienced personal injury attorney.
What to Do if You Are in an Limo Accident
As with any vehicle accident, there are important steps to take after an accident.
Call 911. If you are unfortunately involved in a limo accident, the first step is to contact 911 to have an ambulance transport you to a hospital where you should be evaluated. If a hospital visit is not required, you should see a doctor as soon as possible. It is important to have a complete evaluation, including for spinal or internal injuries.
Contact Police. You should also call the police to the scene and have them document the accident. It is important to request a copy of the police report and to keep it for future reference. This report will include information about the parties involved and is important for your attorney to determine who is at fault.
Document. If possible, you should take photos of the crash site, vehicles, and any details that might be important. You should email these photos to yourself or print them out. You should get names and contact information for anyone involved in the accident, as well as any witnesses. This includes the driver, the passengers, and people in other vehicles. Note the weather, road conditions, traffic, any other important details.
Contact Our Personal Injury Attorney. Before you speak with any insurance companies or investigators, it is important to talk to a personal injury attorney. If you do not speak with an attorney, you may impact your case and the amount of compensation you may be entitled to. The other parties, including the limousine company, may retain an attorney who specializes in limo accidents. It's important for you to be represented by a qualified attorney who can handle your case from start to finish.
The Bottom Line
Limousines, like any vehicle, may be involved in accidents. If you are in a limo accident, there are numerous parties who could be liable, including a negligent driver or company. Limo companies may hire an attorney experienced in limo accident defense. If you are injured in an accident involving a limousine, you should contact our experienced personal injury attorney.
If you've been injured in a limo accident, don't delay and contact our office right away at 323-951-1188. It is important that you understand your rights and know your options especially if you've suffered any damages.
Categories